Boost Your Stories Through A Series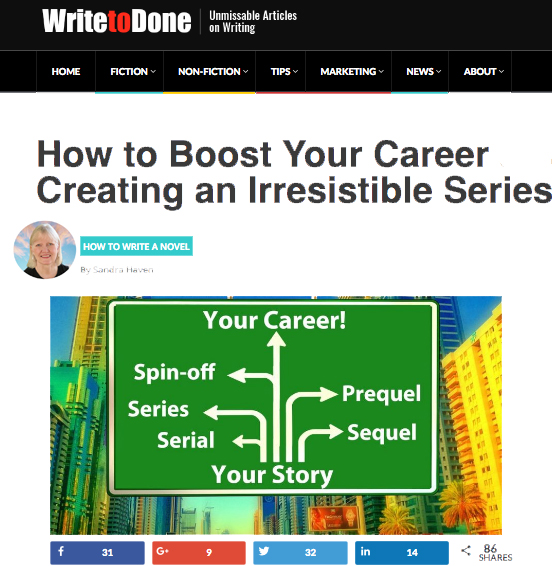 A quick post to share my latest article on WritetoDone.com about writing an irresistible series to bolster your career and set you on a happy writing path.
As Grant Smith commented on the article:
"When I wrote my first novel I had no plans to continue the story. However as I neared the end I didn't want the journey to end as I had grown to like the characters and world too much. I started writing the second novel at the same time I edited and searched for a Publisher for my first. Now I find myself doing the same for the third. Strike while the iron is hot!

"I have a feeling once I have chased the full growth of the main characters, I will likely spin-off a new series based on the younger, up and coming characters."
And Rosemarie Riley wrote in:
"I found this article insightful. By the time I finished reading, I had an outline for book 2 to add to two other books already written and following the suggestions I know how I can link them together as a series. Thanks for all the helpful suggestions, Sandra."
Daniel Rosenberg doesn't need to face a blank page now:
"This article really resonates with me, because with my first novel finished, I again face that dread blank page, wondering if I can make the magic happen again. As it is, I left the ending of my first book somewhat open (one of the bad guys gets away). But it's very hard to imagine what might happen next. Thanks, Sandra, for sharing some strategies. Maybe this will help inspire me!"
So if you haven't read my article on WritetoDone.com, click on it now and have a look. It might be just the inspiration you need to find the long-term writing career you wanted.
Want more?
Discover more writing incentives by clicking here to sign up for my newsletters. You'll immediately receive a list of the articles you've missed that will propel your writing forward.
This is YOUR time to write. The future of YOUR book is in YOUR hands.
Like frequent tidbits of publishing and writing news?

Follow me

on

Facebook

 
Want specific help on your own book? Check out my editing services, at  

SandraHaven.com 

If you wish you could join in my upcoming Series Writing Workshops, see that info at 

Bristol Services Intl.
Or just email me using the form below and let's discuss YOUR book project!